Semi-finished products
- Product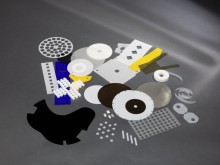 Cuttings, technical textiles of all types, leather and imitation leather, various types of materials, foam, and much more. "Quality" is our motto. Our many years of experience in manufacturing technical materials and leather, as well as our quality management system support us in processing your order with impeccable quality and efficiency. With us
Description of the Product
Cuttings, technical textiles of all types, leather and imitation leather, various types of materials, foam, and much more. "Quality" is our motto. Our many years of experience in manufacturing technical materials and leather, as well as our quality management system support us in processing your order with impeccable quality and efficiency. With us, the customer takes centre stage. Products are developed competently by means of the latest CAD work stations. Thanks to technically high-quality software, the optimum material consumption can be determined. The following machines are available for producing semi-finished products: - High-tech laser facility (CAD online connection)
- State-of-the-art knife cutting facility with planter (CAD online connection)
- Freely programmable punching machine
- Hand-type and bridge-type punch press
- Ultrasound, high frequency, hot wedge and hot air welding machines
- Silk-screen printing machine.

Price of the Product
Price not indicated
Category of the Product
I want to get more details about the product
Company catalogues - Lanz-Anliker AG