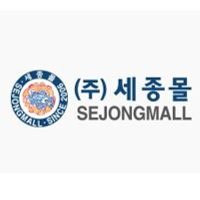 SEJONGMALL
Carbonated chalk, Carbonated Luminous chalk, Paper Blackboard, Kids set, Stationery
Contact - SEJONGMALL
3498-15,Hoguk-ro,Yeongbuk-myeon, Pocheon-si,
Gyeonggi-do 11109
South Korea
Latest products added SEJONGMALL
Additional information
Legal information - SEJONGMALL
| | |
| --- | --- |
| Nature | Headquarters |
| Year established | 2012 |
| Activity | |
| Corporate capital | 221,000 USD |
| Co.Registration No | 209-81-56721 |
| No employees (address) | 9 Employees |
| No employees | 9 Employees |
Presentation - SEJONGMALL
HAGOROMO, FULLTOUCH, CHALK, CHALKBOARDS, BLACKBOARDS, COLORED, EDIBLE, STRONG, NON-TOXIC, WASHABLE, CALCIUM CHALKS, SIDEWALKS, SMOOTH, KIDS, DUSTLESS, Carbonated chalk, Carbonated Luminous chalk, Chalk & Paper BlackboardKids set, Stationery
#Company Introduction
Sejongmall is Korea's high-end stationery manufacturing company, which began by importing Hagroromo Chalk, a product of global renown for its high quality produced by Hagoromo Stationery from Japan. Now, Sejongmall has successfully took over all manufacturing operation and technology from the Japanese company and is producing stationery products under 'Made in Korea' mark that is exported to many countries in the world.
We will continue to produce and provide high-end stationery products for all customers under the slogan of 'The Best Teacher needs the Best Chalk!'
# Strength
1. STRONG AND SMOOTH:
Baked at over 170 degrees Fahrenheit for 8 hours, it guarantees strong durability and high concentration of color unlike any other chalks. Due to strict manufacturing system of compression molding, drying process, and special thermal treatments, all chalks are consumed very slowly with long lasting life and are extra smooth when written.
2. COATED, DUSTLESS:
All HAGOROMO chalks are well coated to prevent hands from coming into contact with chalk dust when using. Our chalks erase easily leaving little to no residue on the chalkboard when removed. Chalk generates little dust and fallout minimizing chances of smudging and messes when writing or drawing.
3. NON – TOXIC:
Made from high quality natural calcium carbonate, this product is non-toxic and safe for kids and professional use. No harm to human body or health as this product has earned CE Marking (an EU safety certification, SGS) and KC Mark (Korea Certification mark from Korea Conformity Laboratories). Keep you and your kids safe with our products and be comfortable in using them!
4. EDUCATIONAL USE OF COLOR:
Vivid and clear bright colors grab student's attentions quicker which help them to focus and concentrate in class, lectures, online courses, and even home school. Especially ideal for students with weak color sensations / identification or color blind as well as short-sighted students as all colors can be seen clearly from a distance.
5. PERFECT PACKAGING:
Every single HAGOROMO chalk is packaged and inserted in foam slots one by one to avoid breakage. No more broken chalks at your door as we provide the most satisfying chalk delivery.
# Main Products
1. HAGOROMO Fulltouch White Chalk [72 pcs]/1 BOX
2. HAGOROMO Fulltouch Color Chalk [72 pcs/Color Name]/1 BOX
3. HAGOROMO Fulltouch Color Chalk [20 pcs/16 colors]/1 BOX
4. HAGOROMO Fulltouch White Chalk [12 pcs]/1 BOX
5. HAGOROMO Fulltouch Color Chalk [12 pcs/10 colors]/1 BOX
# Catalogue
http://www.kompass.kr/img/catalogue/20180719094839_1.pdf
# Video
https://www.youtube.com/watch?v=PhNUjg9X4g8
Company catalogues - SEJONGMALL
Company's Videos - SEJONGMALL
General Information - SEJONGMALL
Certifications
| | |
| --- | --- |
| Type: | European Safety Certification(CE).Korea Safety Certification(KC). ISO9001 |
Import area
West. Europe
Andorra
Export area
North America, West. Europe, Asia-Pacific
United States, United Kingdom, Germany, China, Japan
Brands - SEJONGMALL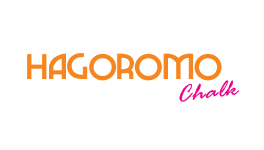 HAGOROMO
Hyeong Seok Shin
CEO - Chief Executive Officer
News - SEJONGMALL
Participate in an event
Nature Chalk, Sejongmall participated in Sharjah Chamber Evevt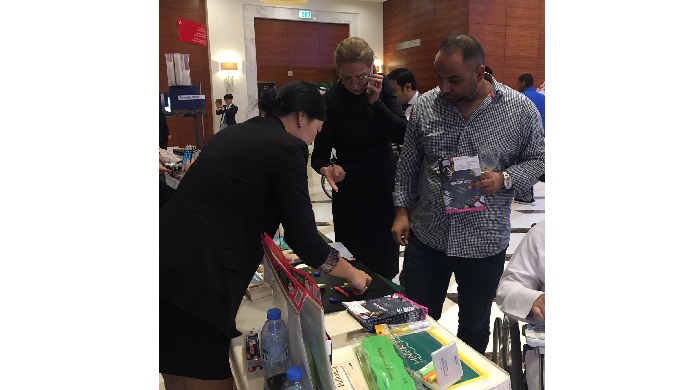 Date: 17 September 2018 11:30 PM
End: 18 September 2018 4:00 AM
Location: Barajeel Hall, Sharjah Chamber
Sharjah Chamber cordially invites you to attend the Forum: Entrepreneurship for All - Promising Opportunities for People with Disability which is co-organized with Sharjah City for Humanitarian Services and Sharjah Entrepreneurship Center (Sheraa) in cooperation with the Korean Disabled Enterprise Business Center (DEBC) on Tuesday 18th of September 2018 at 9: 00 am at the Barajeel Hall at Chamber premises.

Catalogs and Export Consultations Exhibition for people with disability projects with exhibitors from Korean, the exhibition will allow businessmen from both sides to meet & discuss possible areas of cooperation.

Managed by Sharjah Chamber of Commerce & Industry / Sharjah City for Humanitarian Services / Sharjah Entrepreneurship Center / DEBC / Kompass Korea Inc.
Participate in an event
Nature Chalk, Sejongmall participated in UAE Dubai Business Meeting 2018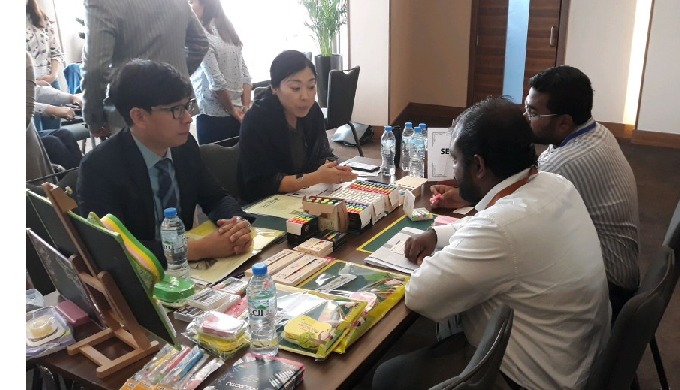 Date: 17 September 2018 12:00 AM
End: 17 September 2018 8:00 AM
Location: Radisson Blu Hotel, Waterfront Dubai
The UAE Business Meeting 2018 event was held on SEP 17, 2018 in Dubai, UAE.

○ Title: UAE Business Meeting 2018
○ Business Meeting: SEP17, 2018(MON) 09:00AM - 17:00PM
○ Venue: H2O Ballroom / The Radisson Blu Hotel, Dubai Waterfront (Business Bay, Dubai)
○ Organizer: DEBC (a government-affiliated organization)
○ Managed by: KOMPASS KOREA Inc.
○ Korean Supplier: 8 companies
○ Participated UAE Distributors: 30 companies
○ Main category: Health/ Education / IoT SmartLamp / Cosmetics / Sports machine / Articial turf /
○ Pre-matching 1:1 Business Meeting
Opening hours - SEJONGMALL
Activities - SEJONGMALL
Producer
Distributor
Service provider
Main activities within the Kompass classification
Secondary activities within the Kompass classification