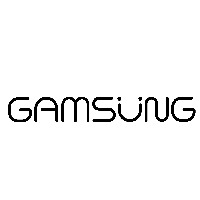 GAMSUNG
We dream of a clean country where children are smiling as much as they can.
Contact - GAMSUNG
277, Hyodeok-ro
508~9, BI CENTER
Nam-gu 61743
South Korea
Send a message - GAMSUNG
Legal information - GAMSUNG
| | |
| --- | --- |
| Nature | Head Office |
| Year established | 2014 |
| Describe your Company and attract Business opportunities | |
| Corporate capital | 147,420 USD |
| Co.Registration No | 408-86-13149 |
| No employees (address) | 9 Employees |
| No employees | 9 Employees |
| Kompass ID? | KR001946 |
| Kompass member for | + 7 years |
| Membership | Booster International |
Presentation - GAMSUNG
Air Purifirer, PM2.5/10, air cleaning system, Mechanical air filter, mechanical operation type Air Purifirer, filter type air purification system, removal of ultrafine dust, Solid oxygen air purification, radon reduction, vehicle oxygen cleaner, Nursing Facilities, Best Korea​n air purifier, AI air cleaner


#Company Introduction
GAMSUNG Co., Ltd. has been striving to acquire the technology related to air purifiers for many years by analyzing/predicting the air environment of the Earth. As a result of our efforts, we have developed and commercialized the world's first 300 G-Nano filter and the Korea's first radon reduction filter. We are developing various air purifier products and systems based on such nano filters and radon reduction filters. The air purifying technology of GAMSUNG Co., Ltd. which is very effective in the removal of outdoor ultra-fine dust, indoor radon and harmful substances is not only the simple technology, but it also leads the innovation which makes clean Earth and clean environment in which our children can grow up and simile as much as they can.

#Main product:
1) cosmo2_vehicle oxygen cleaner
2) INNIPURE_air purifier
3) INNIPURE-N_indoor mechanical air purifier
4) MIDUS-3M_mechanical air purifier
5_MIDUS-3U(2021.10)
Company catalogues - GAMSUNG

Air Purifier (English)
10 pages

Company's Videos - GAMSUNG
Brands - GAMSUNG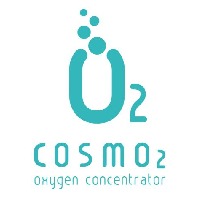 COSMO2 (Producer)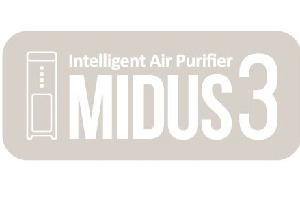 MIDUS (Producer)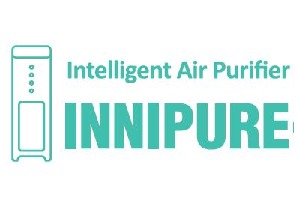 INNIPURE (Producer)
EUN KYUNG YANG
CEO - Chief Executive Officer
SEONG KIL YOU
Export Director/Manager
News - GAMSUNG
Participate in an event
FDA-registered hospital air purifier for clean and clear~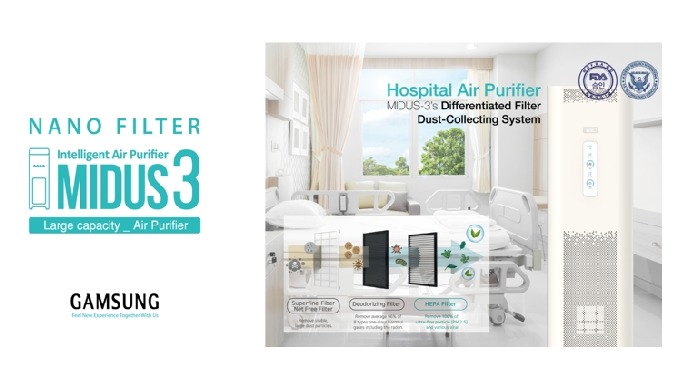 Date: 30 August 2020 3:00 PM
End: 23 October 2020 2:59 PM
Emotional air purifiers are the only product in Korea that has been approved by the U.S. FDA. It means that the company has the cleanest cleanest technology," he said, expressing pride by saying, "It has been proven to be effective at the level of a medical device."

Emotional products include "MIDUS, INNIPURE," a large-capacity air purifier that realizes customer health by using eco-friendly filters and using nanopilters that absorb harmful ingredients such as radon, and "Cosmo 2," which works with oxygen wherever the wind comes out of the car.

Emotions that the company is competing equally with large companies with high-capacity air purifiers are recognized for its competitiveness in this part as a result of this year's performance," the company said. In addition, the company plans to mass-produce window-integrated and large-capacity air purifiers next year. The idea of providing clean air to a window-integrated air purification system that wants to open windows but allows windows to be opened with contaminated air is paying off. It will be equipped with microfiber prefilters, radon deodorant filters and nano hepa filters that capture pollen yellow dust, viruses, ultrafine dust and radon from its air purifier.

Various line-up (window-integrated, 100 pyeong high capacity) air purifier products will be showcased at exhibitions in August 2020 (K-Hospital) and October (Busan Kimes).
Activities - GAMSUNG
Producer
Distributor
Service provider
Main activities within the Kompass classification
Secondary activities within the Kompass classification